Many couples love the idea of adding that extra special personal touch to ensure that their wedding stands out. Basing your big day around a theme is a great way of creating an unforgettable, unique atmosphere whilst reflecting your personalities.
Once the wedding vision has been formed, couples can then decide upon and incorporate different elements throughout their day to reflect their chosen theme.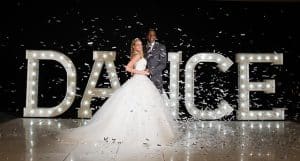 We have categorised some wedding theme ideas together and made some of our own suggestions. We offer a wide range of décor lighting that is sure to add that sparkle to your big day.