Vintage Telephone Audio Guestbook
Show off your originality with a vintage telephone audio guestbook.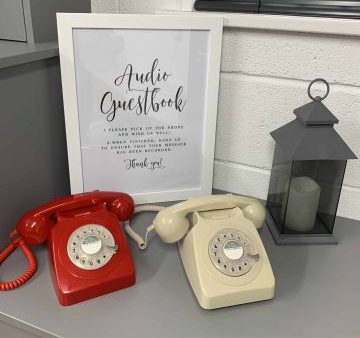 Our newest addition to our product range is our vintage telephone guestbook. These quirky phones not only look great, but they're also a fun interactive solution for you and your guests.
Everyone can leave a private message for you on the phone, which you can turn into a unique keepsake from your special day.
How It Works
Our audio guestbook is a unique way for your loved ones to leave messages at the wedding. Create a personal greeting for guests and receive messages of love and support in return.
Before the big event, all you have to do is:
Choose from a red or a ivory phone for your special day
Record a message for your loved ones to hear on the phone, or use a preset template
We setup the phone and instructions prominently in your wedding venue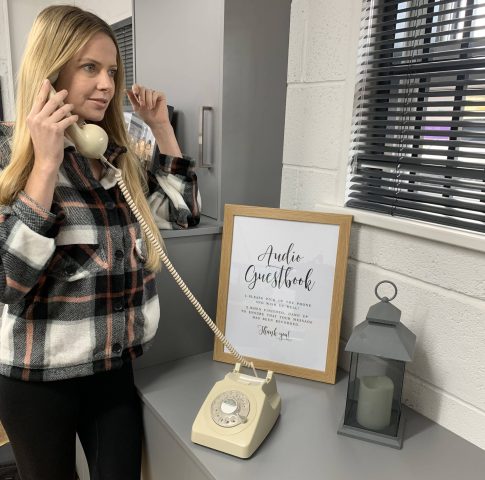 Here's how our vintage telephone guestbook works on the day:
Guests pick up the receiver and listen to a pre-recorded message from the happy couple, or preset template
At the tone, they record their personal message to the bride and groom
When they've finished, they just hang up the receiver and go back to the party- it's as simple as that!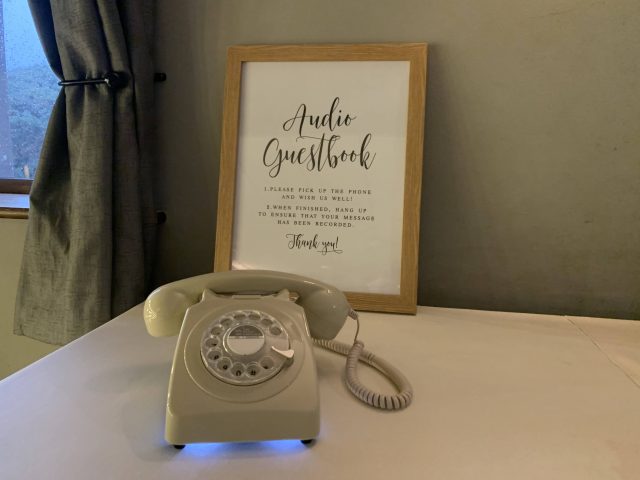 Once your wedding is over, we'll provide you with a recording of your audio guestbook so that you can treasure it forever.
We have a red and an ivory vintage phone for weddings so that you can choose the perfect colour to suit your unique style and fit in with the other décor at your venue.
These stunning vintage phones are in-style and look great in rustic settings, modern kitsch venues and traditional buildings.
Our vintage phone audio guestbook:
Has built in background noise reduction

Has built in level normalisation

Produces fully processed WAV and MP4 visualization files.
Choice Of 4 Different Setups
Telephone shelf stands: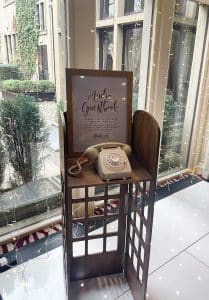 Vintage Red Telephone Shelf
Vintage Phone Audio Guestbook With Telephone Shelf From £295.00 (Delivered Installed and Collected)
Full Size White Telephone Box:
What About Background Noise?
Matt Butcher
2022-10-24T22:48:38+01:00
The software features built-in noise reduction and normalisation to deliver CD quality audio and MP4's in any environment.