Black and White Striped LED Starlight / Starlit Twinkle Dance Floor Hire Yorkshire
Black and White Striped Starlight Dance Floor Hire | Black & White Striped LED Dance Floor Hire | Black and White Striped Twinkling Starlit Dance Floor Hire
Every couple wants their wedding to be a unique event that guests share fond memories of for years afterwards. The best way to host an event that's memorable for all the right reasons is to decorate your venue perfectly and create a stunning space where everyone can have fun.
Our black and white striped starlit dance floors are the ideal solution for any couple looking to host the wedding event of the year. These beautiful dance floors are illuminated by hundreds of LED lights, creating a glorious display.
Because of the design of the floor it can be arranged in both a square and rectangular shape. This makes it perfect to use as a dance floor, catwalk for a fashion show or as a walkway for a civil ceremony or awards night.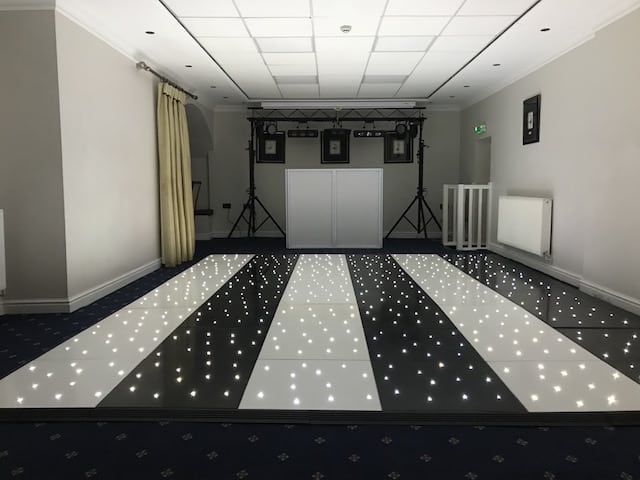 All of our Black and white striped Starlight dance floor use a special locking system, which ensures that pieces don't come loose during use. The floors are all able to withstand being jumped up and down on, and bottles/glasses being dropped on them.
All our Black & White Striped Starlight dance floors are the more reliable cable connection panels, other companies use the "wireless" type, which is quicker to set up and take down. But these can have problems at venues with uneven floors and thick carpets, as they can make the wireless type lose connection to the panels and your dance floor goes off.
When you hire a black and white striped starlit dance floor from us, we will give you the best service anywhere in the Yorkshire area. From the moment you book to the time when we collect your black LED dance floor, our trained and insured team will aim to please and offer you the best possible service.
Every black starlit dance floor that we hire out for weddings is cleaned and checked before we transport it to the venue. Once it arrives, our friendly team will assemble the dance floor and show you how to use it to create the effect that you desire.
After that, they'll leave you to your wedding day, so you can get on and have the time of your lives in the presence of a gloriously illuminated black and white striped dance floor.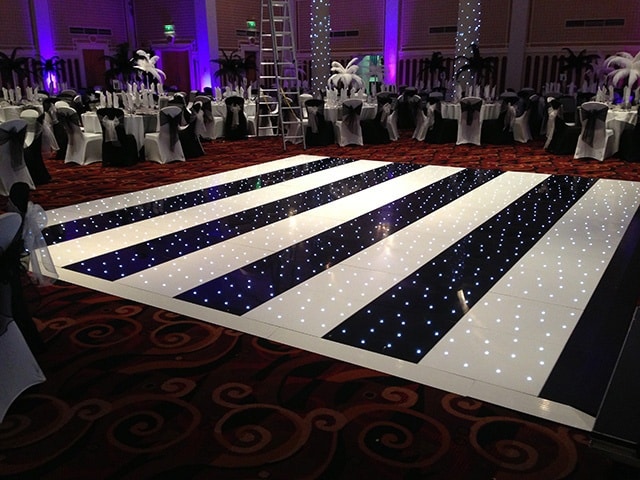 Our Starlight Dance Floors are unique to other Starlight Floors available and offer a much higher quality of floor with the following benefits:
Colour Coded Edging To Match The Floor
8 Different Twinkle Effects
Sound To Light (Twinkle To The Beat Of The Music)
True Starlight Effect With Fading LED's
Slow Fading In and Out LEDs
Cable Connect (So Will Not Go Off On Uneven Floors, Or Leave You With Panels Out On The Floor) Unlike This
Easy Change From Different Patterns (With No Annoying Beep Or Noises)
Fully Static Lit (To Get The Best Pictures On Your First Dance)
Anti Movemen