Hanging Lanterns | Chinese Paper Lanterns Hire | Wedding Lantern Hire
Hanging Lanterns To Set Your Wedding Venue Apart From The Rest
Creating a wedding that's as unique as you are can be a challenge for many couples, especially if your venue is a blank space that doesn't represent your style.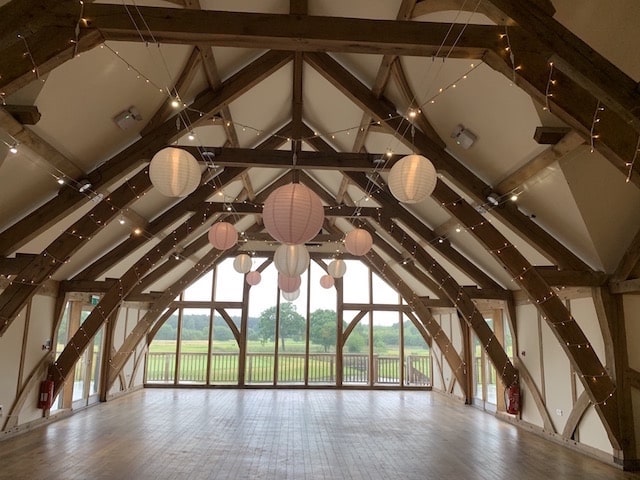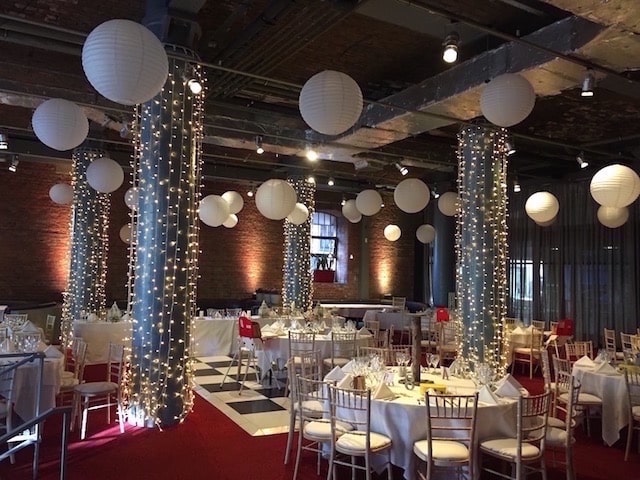 Our hanging Chinese lanterns come in a wide range of colours and sizes and are available in the following colours:
We have a range of Chinese Hanging Lanterns varying sizes in, 12", 14″, 16″ and 20" that will really look great in your wedding venue.
You can mix and match colours and sizes of the Chinese Hanging Lanterns to Wow your guests.
All our Chinese Hanging Lanterns have the option LED battery powered lights to illuminate the lanterns.
Our prices to deliver install and remove Chinese Hanging Lanterns are:
Upto 40 Laterns Various Sizes / Colours – £300.00
Lighting For Lanterns
40 x Button Lights (White Or Warm White Lasts Upto 24 Hours) – £80.00 Extra
40 x Remote Control White Lights – £100 Extra
(Sizes and Colours can be varied).
Rest assured, you hire direct, we have our own vans, staff and equipment, all which will arrive at your venue on time and in guaranteed excellent condition. Our service guarantees that your wedding and venue will be unique to your day, transforming your venue to suit your theme and style.
Thankfully, Wedding Venue Lighting offers a wide range of wedding lighting and decoration products for hire, so that you can transform your space into the wedding venue that you've always dreamed of since you started the long process of planning it.
We have everything from traditional products like fairy lights through to funky items like LED furniture and much more, so no matter what your tastes, style and venue requirements, we've got something to suit your wedding.
For any couple looking for a unique wedding that combines modern flair with traditional style, then our hanging lanterns could be a great choice.
Our quality Chinese paper lanterns will light up any wedding and give it a unique atmosphere that guests will love. You can choose them in almost any colour and size so that you get a solution that suits your style and is in keeping with the theme for your wedding.
If you're hosting an outdoor wedding, then our paper lanterns can brighten up any marquee or tent, or you can even use them to create a unique contrast against the night's sky.
Indoors, these beautiful lanterns look majestic and create a magical atmosphere that will impress even the most seasoned of wedding guests.
No matter how you want to display your hanging lanterns at your wedding, Wedding Venue Lighting can make it happen.
Our staff have extensive experience working with brides and grooms throughout the Yorkshire area, in venues ranging from converted barns through to premium hotels and everything in between.
When they arrive, they will immediately ask you where you want your lanterns, and then they will place them in your venue accordingly.
If you need any changes, they will make them before they leave you to enjoy your big day with your friends, family and loved ones.
You can call them if you need anything. Otherwise, our team will return when the event is over to collect the lanterns and make sure that you enjoyed them.
Client satisfaction is of paramount importance to us, so if you need anything, they will be ready to help and advise. We never leave a wedding without making sure that the happy couple is satisfied and that they adore their lighting and décor.
It's this commitment to excellence that has made us one of Yorkshire's leading wedding lighting and decoration hire providers.
Over the years, we have worked with hundreds of couples throughout this majestic county, and we look forward to working with even more in the future.
If you're interested in incorporating hanging lanterns into your wedding, then contact Wedding Venue Lighting, and our experts will be happy to help. They can walk you through all of the options we have and find the ones that work best for your special day.