Name Projection | Logo Projection | Image Projection | Custom Gobo Projection
A dramatic and memorable way to include your monogram and names is to project it onto the walls during the wedding reception with our custom Name Projection. To project your monogram, we need to buy a custom metal plate, called a "gobo." We then project your image or names onto the walls to make it a memorable event.
Further more the gobo disc is yours to keep after your wedding day.
We can project your gobo monogram, logo, name or image on the dance floor, walls or ceilings to offer that extra WOW at your wedding or special event. The truly wonderful thing about our effective projection is that you can make it 100% personal to yourselves. You can literally create whatever you like, whether you use pictures, names, dates, or all of the above, you name it, we can do it. So if you want to add that super personal touch, this is exactly what you need. Generally we project your desired image onto a wall, dance floor or even a building. If you have any other ideas, please suggest them to us.
Custom Image Projection From £150.00
(When Ordered On Its Own)
From £100.00
(When Ordered With Another Service)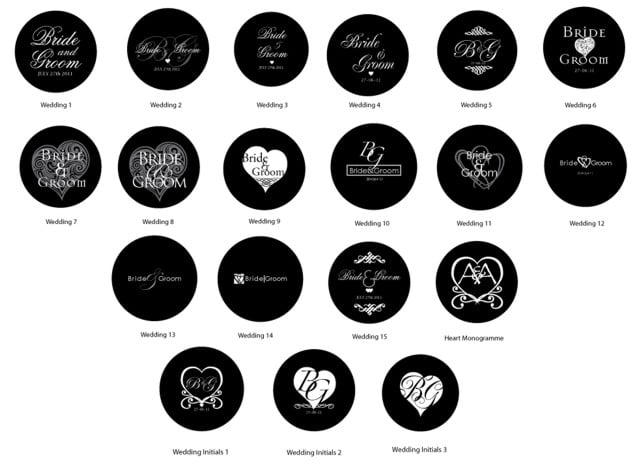 Rest assured, you hire direct, we have our own vans, staff and equipment, all which will arrive at your venue on time and in guaranteed excellent condition. Our service guarantees that your wedding and venue will be unique to your day, transforming your venue to suit your theme and style.
Name Projection Hire