Festoon Lights Hire Yorkshire
Festoon Lighting Hire – Festoon Backdrop Hire
Get The Classic Chic Look For Your Wedding With Our Festoon Lighting Hire!
Choosing the lighting options for your wedding can seem like a daunting task, especially when there are so many different lighting solutions out there.
It might seem like a challenge to find something that will fit in with your theme and create the space that you've always wanted to get married in, but it doesn't have to be if you work with the right company.
At Wedding Venue Lighting, our experts are committed to helping couples throughout the Yorkshire area by providing the support they need to find and hire the perfect wedding lighting and décor products.
We offer a wide range of quality solutions and provide the best customer service in the region, so you can rest assured that when you work with us, you're getting the very best.
One of our innovative, trendy products is our festoon lighting and festoon backdrop hire. These rustic lights hang on strings and can act as a glorious overhead canopy or a stunning backdrop for beautiful photos.
Our festoon lights are the perfect addition to any outdoor wedding, as well as being ideal for turning a drab indoor space into somewhere you can be proud to host your wedding.
Festoon lights are rustic round lightbulbs that hang from strings, giving your venue a distinctive and homely feel. If you're looking for something different, then these could be perfect. We have a range of festoon lights to suit everyone, so no matter what you're hoping to achieve with your wedding décor, we can help by offering our top-quality products and expert eye for detail.
When you book our festoon lighting hire services, you don't just get handed a product and left to get on with installing and using it. We have experts ready to support you through the entire process, from choosing your perfect lighting solutions through to installing and taking them down again.
Our staff won't attend your wedding, but if you have any issues with your festoon lights or any of our other products, they can help you to get things back up and running again in no time.
This exceptional service is available for couples, and corporate event planners looking to make a good impression, across the Yorkshire area.
Whether you're in Batley or Bingley, Harrogate or Huddersfield, Sheffield or Shipley, our team can bring you the quality festoon lights and turn your event into an unforgettable experience.
To compliment our festoon backdrop hire, we also offer a range of additional lighting and décor products. We've got everything from traditional dance floors and hanging lanterns through to trendy gear such as quirky LED furniture and majestic starlit backdrops.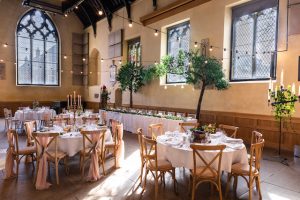 Festoon Lighting throughout:
Bradford, Halifax, Harrogate, Huddersfield, Leeds, North Yorkshire, Rotherham, Sheffield, South Yorkshire, Wakefield, West Yorkshire & York