GLOBAL WEDDING AWARD WINNERS 2019
The results are in and ………..
'The Best Wedding Lighting Hire Specialists for Yorkshire' award goes to:
WEDDING VENUE LIGHTING
https://www.wedding-venue-lighting.co.uk/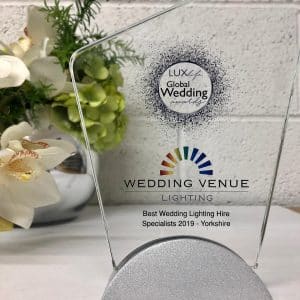 Matt and his Team are 'over the moon' and thrilled to share this prestigious accolade with you, we could not have done this without you. So, thank you from the bottom of our hearts.
Here's a snippet of a review from LUX Life Magazine:
"Seeking to transform ordinary wedding venues into something truly spectacular, Wedding Venue Lighting provides decor lighting, varied dance floors, elegant draping and the latest mirror photo booths to enhance any couple's wedding special day. As part of our showcase of a selection of this year's Global Wedding Awards winners we profile the firm to find out more about its award-winning service."
LUXlife Magazine
https://www.lux-review.com/lux_awards/wedding-awards/
To be awarded an honour like this only makes us more determined to make your Wedding Day perfect – we've stood the test of time – this award is a proud achievement to be shared with you all, thank you again, you can relax and trust Wedding Venue Lighting to be there for you.
Other comments from the magazine included:
'Working with clients to achieve the perfect aesthetic for their space is Wedding Venue Lighting, a specialist lighting and equipment company dedicated to offer unique solutions that will turn any venue into a space couples can truly call their own. Personalised weddings are a key focus in the market currently, and as such this innovative company can offer a variety of options to create a unique day including lighting, dancefloors, sumptuous drapes and even photo booths for guests to take home a memento of the wedding.
Brides and Grooms can relax in the knowledge that the firm's expert team are on hand with help and advice throughout their special event if required. As part of this focus on client support, Wedding Venue Lighting has a customer friendly website that is available to peruse at any time to ensure convenience for clients.'
This award is a tremendous tribute to share with you all and looking to future years Wedding Venue Lighting will continue to gravitate towards excellence on your behalf.
Many thanks for believing in our fantastic team.