Mirror Mirror, On the Wall…

The Beauty Mirror photo booth is the latest creation from Wedding Venue Lighting, and is already proving a hugely popular addition to many weddings! WVL already makes use of the most up to date technology with its existing photo booths, but the new Beauty Mirror will only increase the fun that we can bring to your special event.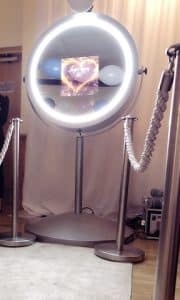 The fun of the Beauty Mirror photo booth
The new Beauty Mirror photo booth is able to take prints and photographs straight away with no waiting time, and also comes equipped with a large array of props, an online photo gallery that is easy to download, poles, a VIP carpet and a guestbook that you can keep forever, containing personal messages from your wedding guests as well as all of your images. Two experienced staff members from Wedding Venue Lighting will be on hand throughout your special event to answer any questions as to how to use the booth, which comes with four hours of unlimited use. The new Beauty Mirror photo booth is able to take amazing full length "selfies" via a hidden built-in camera, and allows users to turn their reflection into wacky and wild images that can be immediately uploaded to social media or printed out.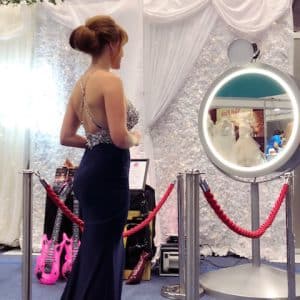 Other facets
Photographs taken using our new Beauty Mirror photo booth, as well as our other photo booths, can also be made even more personal by making use of the Paint feature. This enables users to write messages, add an array of stamps, or even draw a picture via the touch screen paint brush. The Beauty Mirror photo booth can print out photos using existing templates, or can be custom designed in order to meet individual requirements, and it also comes with personalised animations. Add some old fashioned fairytale magic to your wedding by contacting Wedding Venue Lighting today!