Post Boxes
Wedding Post Box Hire | Red Post Box Hire | White Post Box Hire | Rustic Wooden Post Box Hire
Full size Royal Mail Wedding Post Box for your Wedding Day to collect your cards and guests messages.
Based on the original British Royal Mail Post Box, still seen throughout the UK today, these great post boxes are available for hire to enhance your gift table at any special occasion.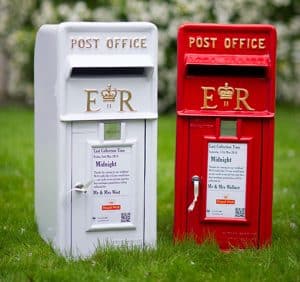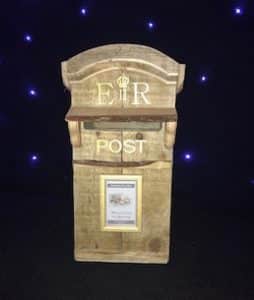 These Post Boxes are constructed from light yet strong fibre glass resin material featuring lockable access door and collection card insert.
We are able to supply wedding post boxes in the following colours:
Red Post Box: the traditional red post box as seen throughout the country – Royal Mail red with gold lettering,
White Post Box: White royal mail post box looks stunning at wedding receptions. – White with silver lettering, perfect to fit in with your colour scheme.
Rustic Post Box: Hand made in reclaimed timber looks stunning at Rustic Theme Weddings.
Available to hire from £40.