Light Up Mr & Mr Letters
Light Up Mr & Mr Letters | Illuminated Mr & Mr Letters Hire
Announce your new found status to the world with Wedding Venue Lighting's stunning Light Up Mr & Mr letters. These giant letters are the perfect answer to the backdrop for your wedding day.
The illuminated Mr & Mr Letters can be used as a backdrop to your wedding ceremony, during the wedding breakfast and your evening reception.
The letters light up the room and provide the ultimate photo opportunity for all attendees at your big and beautiful day.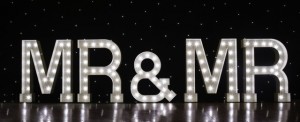 Our Mr & Mr letters use a traditional fairground bulb, this gives a diffused effect looks good both during the day and night.
A large venue is required for these letters as they do take up a lot of space. Saying that, this is what makes them so special and stand out even more, they are a must have for your big day.
Standing at 5 ft Tall (1.50 Meters) Our Giant Mr & Mr Letters make a real showcase at your wedding.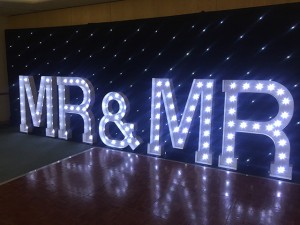 Light Up Illuminated Mr & Mr Letters Hire – £275.00 (Delivered Installed and Collected)
Rest assured, you hire direct, we have our own vans, staff and equipment, all which will arrive at your venue on time and in guaranteed excellent condition. Our service guarantees that your wedding and venue will be unique to your day, transforming your venue to suit your theme and style.
We also have available in our light up letter range:
The MR & MR letters are suitable for use indoor, however they are not waterproof so cannot be used outside if it is raining.