Black Star Cloths
Star Cloth Hire | Black Starcloth Hire | Twinkly Cloth Hire | Starlight Cloth Hire
Our black wool serge LED star cloth hire is manufactured from the finest cloth of its type in the marketplace.
Starcloths Hire with black starlight cloth are perfect to use as the backdrop for a DJ or Band as well as for concealing the walls of your venue.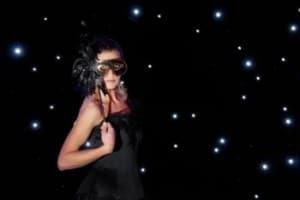 Our starcloths are put up using a specialist pipe and drape system.  This free-standing and telescopic system does not need to be secured to the venue in any way and can reach up to 4 meters in height.
Our starcloths hire with black starlight cloth are made from a fire-retardant wool serge material for your safety and peace of mind.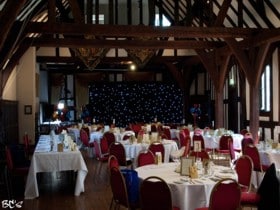 Our starcloths can also interlink with our DJ Booths and Starlight Dance Floors so all twinkle together.
Starcloths are available:
3 Metres High x 6 Metres Wide
3 Metres High x 9 Metres Wide
4 Meters High x 8 Meters Wide
All stands included in the hire.
Black Starcloths Hire (Including Stands) From – £200.00 (Delivered Installed and Collected)
Contact Us For Further Details and availability